Archive For The "2017" Category
We're approaching the end of 2017, and it's been an interesting year where Lehigh football fans have experienced a multitude of emotions: anger; sadness; redemption, and, finally, joy.
As you all know, the Mountain Hawks came back from the precipice of a disastrous season to come back and win back-to-back Patriot League championships and back-to-back FCS Playoff appearances.
In that vein, I thought I'd share the best and most-read LFN pieces from last season, from No. 10 to No. 1.
Going through all my stuff from the past year, these were the pieces that really stood out to me.
Read more »
(Photo Credit: Alec Turner c/o Lehigh Athletics)
For those that care about these things, Lehigh entered the first round FCS playoff matchup 21 1/2 point underdogs.
And if we're being fair, that was probably the right number.
The Seawolves were 9-2, nationally ranked with seven conference wins in the tough CAA and one of their losses coming to a very strong FBS team in South Florida. In contrast, unranked Lehigh came into the game 5-6 and only were here because they upset Colgate 41-38 on the road and won enough Patriot League conference games to win the autobid.
Yet a young Lehigh team was game to put their best foot forward and to have a heroic sendoff for potential NFL prospect senior WR Troy Pelletier, and in that, the game was a rousing success.
With junior QB Brad Mayes expertly picking apart one of the top defenses in FCS, time after time he'd find Troy for reception after reception, each one highlighting his impressive skill set as an audition for the next level.
It wouldn't be enough to win the game, but it was enough to keep the Mountain Hawks within striking distance until the Seawolves would pull away in the 4th quarter.
It was also enough to establish Troy as the all-time greatest receiver in Patriot League history.
Read more »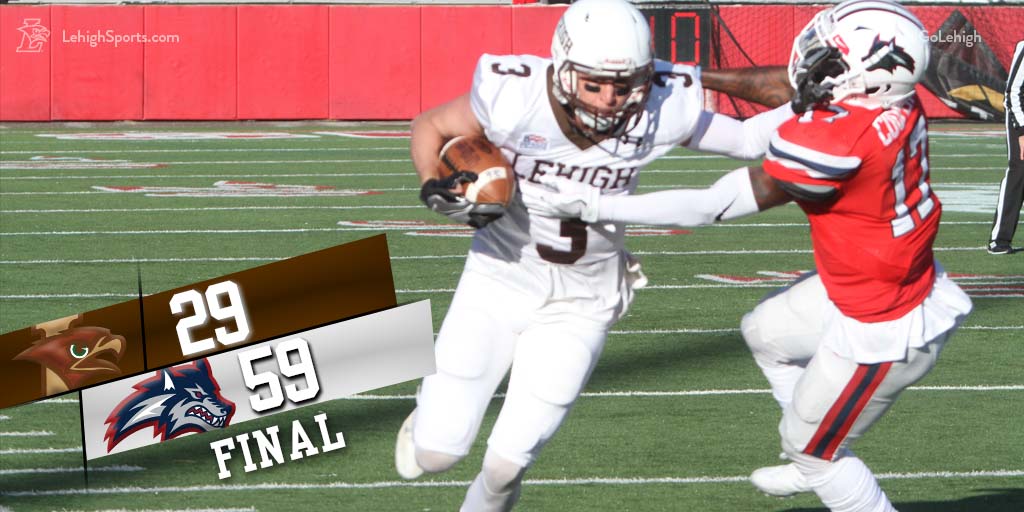 It was marginally better than last seasons 1st round loss to New Hampshire, but it still wasn't close.After holding Stony Brook scoreless in the first quarter and battling back to a 24-14 deficit at halftime, Stony Brooks' 2-play, 77 yard drive where Q…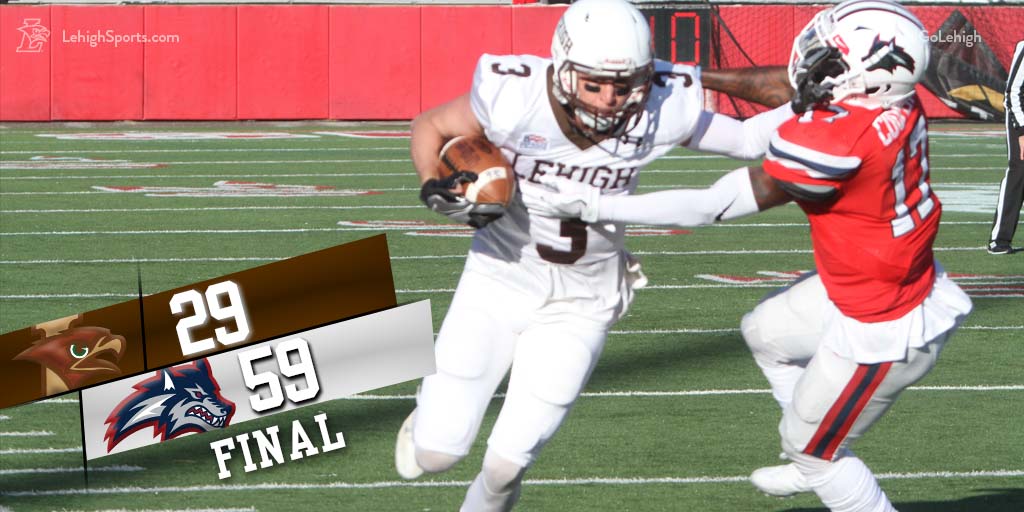 It was marginally better than last seasons 1st round loss to New Hampshire, but it still wasn't close.After holding Stony Brook scoreless in the first quarter and battling back to a 24-14 deficit at halftime, Stony Brooks' 2-play, 77 yard drive where Q…
For whatever reason, you didn't make the trip to Stony Brook, New York. You've popped your popcorn, iced your Yuenglings, and put the meatballs in the crockpot – and then you panic.
How do I watch the game? What is ESPN3? Can I watch it on my TV? Do I need to subscribe to something? WHAT DO I DO???
Never fear. LFN's here to help.
I remember the last game Lehigh played on Long Island; I was there.
It also happened to be a FCS Playoff, or back then, I-AA Playoff, game.
It wasn't against Stony Brook, who finished their very first season in I-AA that year with a 5-5 record and a win over St. John's (NY), 28-6.
It was against a team that used to be the biggest college football program on Long Island – an East Coast independent, Hofstra, that was led by head coach Joe Gardi. Like Stony Brook, Hofstra had transitioned to I-AA football, but they had done so much earlier, and even with the challenge of scheduling as an independent, had developed into a playoff team quickly.
Hofstra used to have a national presence on the football stage. Jets fans marveled at the diminutive WR Wayne Chrebet, and fell in love with his story – the local boy who led the Dutchmen in receiving, but only was on the Jets because he hustled his way into a tryout. Legend has it that the security guard at Jets training camp stopped him on the Hofstra campus, not believing that he could possibly be a NFL wide receiver at 5 foot 10 – despite his success on that same field.
That was a big part of the story of Hofstra's football program, and 1999, when Lehigh played the Dutchmen in Long Island might have been Hofstra's peak not only as a football program but as an athletic program. Since then, Stony Brook has passed Hofstra in about every measurable way, but in 1999, Hofstra, who was still looking for a football conference after the Patriot League would still not offer them an invite, loomed as Lehigh's opponent.
By now, you know that Lehigh has drawn Stony Brook as their first round opponent in the FCS Playoffs.
Let's get more familiar with them by starting with the basics.
Stony Brook is a member of the CAA, the same FCS football conference that gives use Villanova, Delaware, New Hampshire, and James Madison.
They're located near Oyster Bay on Long Island, in Stony Brook, New York, and were established as a part of the SUNY University system in 1957. Since then, they have grown and expanded in leaps and bounds as a research University, and also collaborate with Lehigh on certain initiatives, most recently with their computer science departments to research machine learning.
Their nickname is the Seawolves – which is apparently a real thing – and football-wise they finished 9-2 with their very challenging CAA schedule.
They are ranked No. 11 in the country in the FCS coaches' poll and No. 12 in the country in the STATS poll.
Oh yeah – they also gave a 9-1 FBS team a major scare in the first week of the season.
For the first time all season, it was a dark, wet day for a Lehigh football game.
It was not at all ideal for the more than 15,000 fans, and countless tailgaters that made it to the tailgates but not in the stadium, partying and tailgating outside the gates of Murray Goodman.
It was also not at all ideal for Lehigh's high-powered passing game, and during a disastrous second quarter with three turnovers, it felt like the wheels were coming off the Mountain Hawks' chances at successfully defending their Patriot League title.
It seemed like everything that could go wrong, was actually going wrong. Three fumbles resulted in three Lafayette recoveries. A third down conversion incompletion by Lafayette QB Sean O'Malley became an unexpected first down, thanks to an unsportsmanlike conduct penalty that kept their drive alive. A 14-7 first quarter lead became 17 unanswered points, leading to a 24-14 deficit against the best defensive team in the Patriot League.
In this most important of football games for many of the Lehigh faithful, it seemed like they were losing it by shooting themselves in the foot.
Then halftime happened, and everything changed. More rain, and worse weather, did not deter Lehigh from their goal. And a couple of Rivalry legends were made in the process.
Read more »
Lehigh are the Patriot League Football Champs, and will be playing in the 1st round of the FCS playoffs.
The FCS Playoff Bracket is going to be revealed on ESPNU at 11:00AM on Sunday on a selection show. The team will be watching the selections live at the Goosey Gander to find out who they will play, and where.
The chance that Lehigh will host a home playoff game appears to be very slim. Though record is technically not in consideration for whether a team will host a first-round game, other considerations (the lack of lights, no Noon playoff starts) make it difficult if not impossible to host a playoff game at Murray Goodman unless temporary lights are brought in.
Being that's the case, it seems very likely that Lehigh will be playing somewhere on the road in the 1st round. Below the flip, I will give the bracket predictions of the experts and three things I think you should watch for during the selection show.
Read more »
Like I did last year, I compiled a list of a "greatest hits" of some of the published articles on all of the Lehigh football seniors. They are below the flip.All of the players below are listed as seniors or 5th year players on the current Le…