Archive For The "Troy Pelletier" Category
We're approaching the end of 2017, and it's been an interesting year where Lehigh football fans have experienced a multitude of emotions: anger; sadness; redemption, and, finally, joy.
As you all know, the Mountain Hawks came back from the precipice of a disastrous season to come back and win back-to-back Patriot League championships and back-to-back FCS Playoff appearances.
In that vein, I thought I'd share the best and most-read LFN pieces from last season, from No. 10 to No. 1.
Going through all my stuff from the past year, these were the pieces that really stood out to me.
Read more »
(Photo Credit: Alec Turner c/o Lehigh Athletics)
For those that care about these things, Lehigh entered the first round FCS playoff matchup 21 1/2 point underdogs.
And if we're being fair, that was probably the right number.
The Seawolves were 9-2, nationally ranked with seven conference wins in the tough CAA and one of their losses coming to a very strong FBS team in South Florida. In contrast, unranked Lehigh came into the game 5-6 and only were here because they upset Colgate 41-38 on the road and won enough Patriot League conference games to win the autobid.
Yet a young Lehigh team was game to put their best foot forward and to have a heroic sendoff for potential NFL prospect senior WR Troy Pelletier, and in that, the game was a rousing success.
With junior QB Brad Mayes expertly picking apart one of the top defenses in FCS, time after time he'd find Troy for reception after reception, each one highlighting his impressive skill set as an audition for the next level.
It wouldn't be enough to win the game, but it was enough to keep the Mountain Hawks within striking distance until the Seawolves would pull away in the 4th quarter.
It was also enough to establish Troy as the all-time greatest receiver in Patriot League history.
Read more »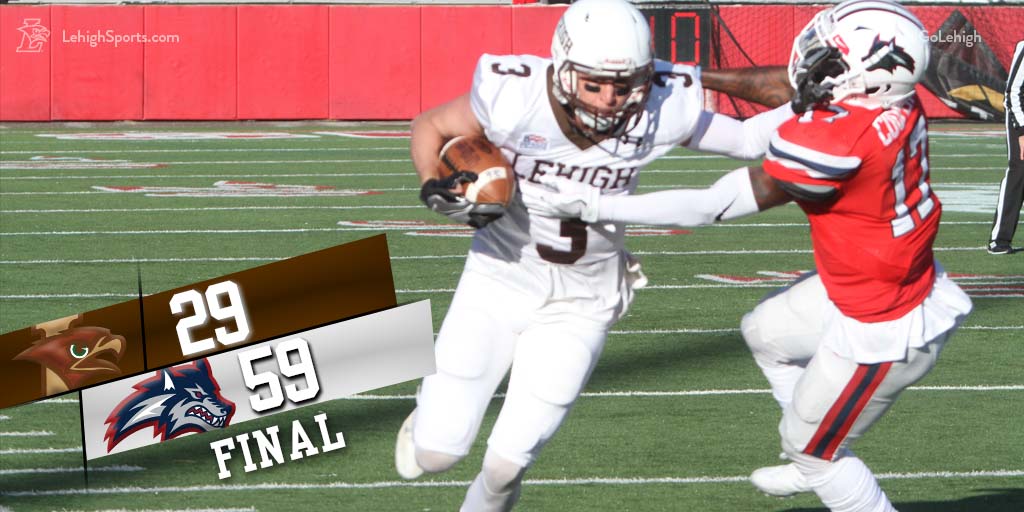 It was marginally better than last seasons 1st round loss to New Hampshire, but it still wasn't close.After holding Stony Brook scoreless in the first quarter and battling back to a 24-14 deficit at halftime, Stony Brooks' 2-play, 77 yard drive where Q…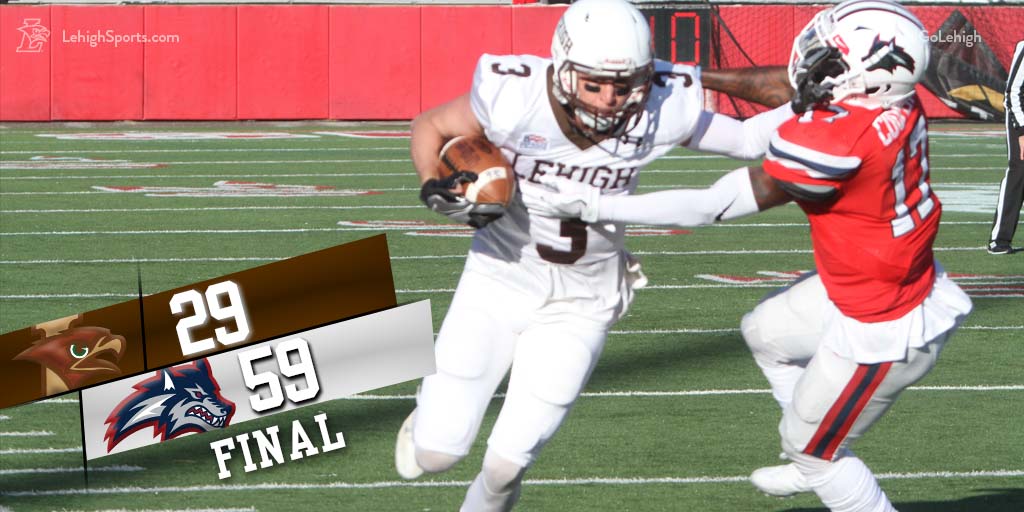 It was marginally better than last seasons 1st round loss to New Hampshire, but it still wasn't close.After holding Stony Brook scoreless in the first quarter and battling back to a 24-14 deficit at halftime, Stony Brooks' 2-play, 77 yard drive where Q…
For the first time all season, it was a dark, wet day for a Lehigh football game.
It was not at all ideal for the more than 15,000 fans, and countless tailgaters that made it to the tailgates but not in the stadium, partying and tailgating outside the gates of Murray Goodman.
It was also not at all ideal for Lehigh's high-powered passing game, and during a disastrous second quarter with three turnovers, it felt like the wheels were coming off the Mountain Hawks' chances at successfully defending their Patriot League title.
It seemed like everything that could go wrong, was actually going wrong. Three fumbles resulted in three Lafayette recoveries. A third down conversion incompletion by Lafayette QB Sean O'Malley became an unexpected first down, thanks to an unsportsmanlike conduct penalty that kept their drive alive. A 14-7 first quarter lead became 17 unanswered points, leading to a 24-14 deficit against the best defensive team in the Patriot League.
In this most important of football games for many of the Lehigh faithful, it seemed like they were losing it by shooting themselves in the foot.
Then halftime happened, and everything changed. More rain, and worse weather, did not deter Lehigh from their goal. And a couple of Rivalry legends were made in the process.
Read more »
Like I did last year, I compiled a list of a "greatest hits" of some of the published articles on all of the Lehigh football seniors. They are below the flip.All of the players below are listed as seniors or 5th year players on the current Le…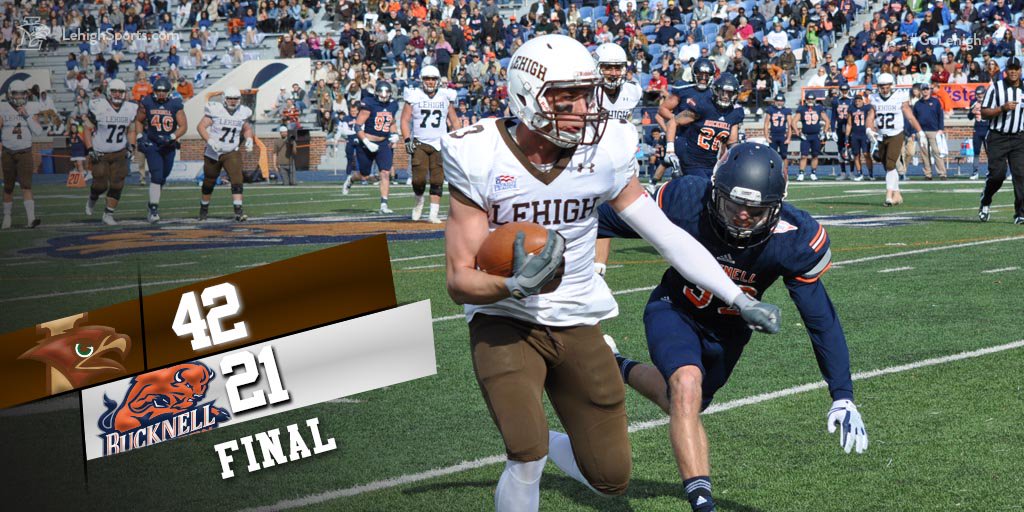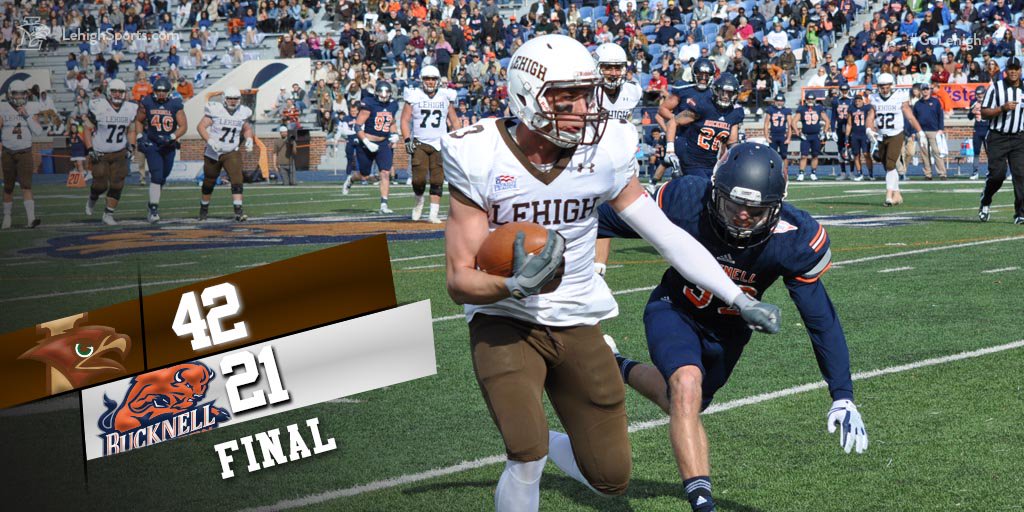 (Photo Credits: Mike Geer/Lehigh Athletics)
"We went right at 'em."
That was head coach Andy Coen talking to Lehigh Sports' Steve Lomangino after the Mountain Hawks' 42-21 win over Bucknell.
With their Patriot League title hopes on the line, and the No. 1 defense in the Patriot League the opposition, it seemed like the Mountain Hawks might enter into the type of defensive struggle that defined last year's game against Bucknell.
But after junior LB Mark Walker forced and and grabbed a Bison fumble and returned it to the Bucknell 9 yard line, junior QB Brad Mayes didn't mess around.
Read more »
The 2017 Lehigh Mountain Hawks are known for having a great offense, a high-octane group that features stars like junior QB Brad Mayes and junior RB Dominick Bragalone.
But senior WR Troy Pelletier would trade it all for conference wins.
On an afternoon where he broke a bunch of school and Patriot League records – some of them unanticipated – his focus, as ever, was about getting the league victories that count towards the main goal of this team – to defend their Patriot League Championship.
"I didn't know what the records are," Troy said afterwards about his record-busting, 16 catch, 197 receiving yard, 4 touchdown performance. "I just knew I was close. I knew it was going to come if I bought in every day, do what I need to do every day to get better, and I knew it would come."
Fortunately for Lehigh fans, his banner day came to allow Lehigh to resoundingly beat Georgetown 54-35 and go to 2-0 in Patriot League play.
Read more »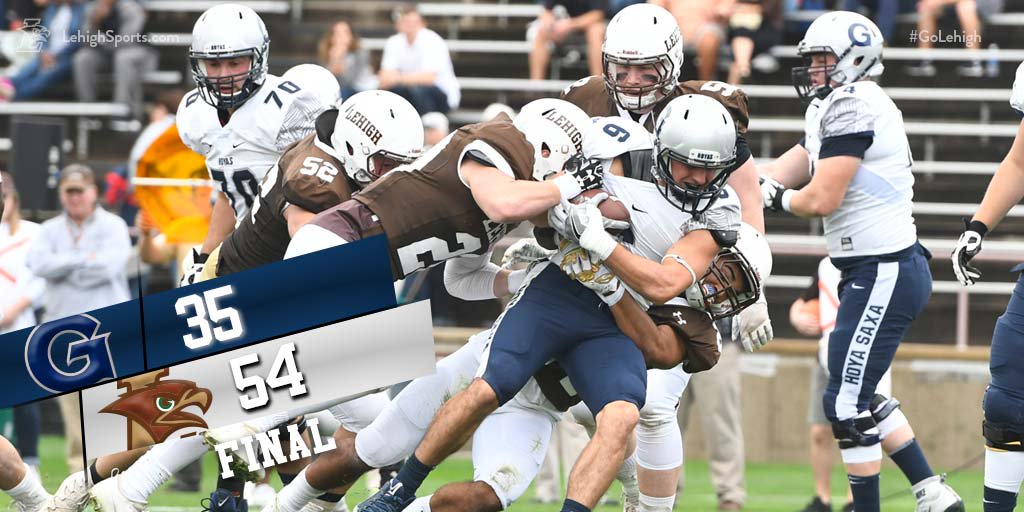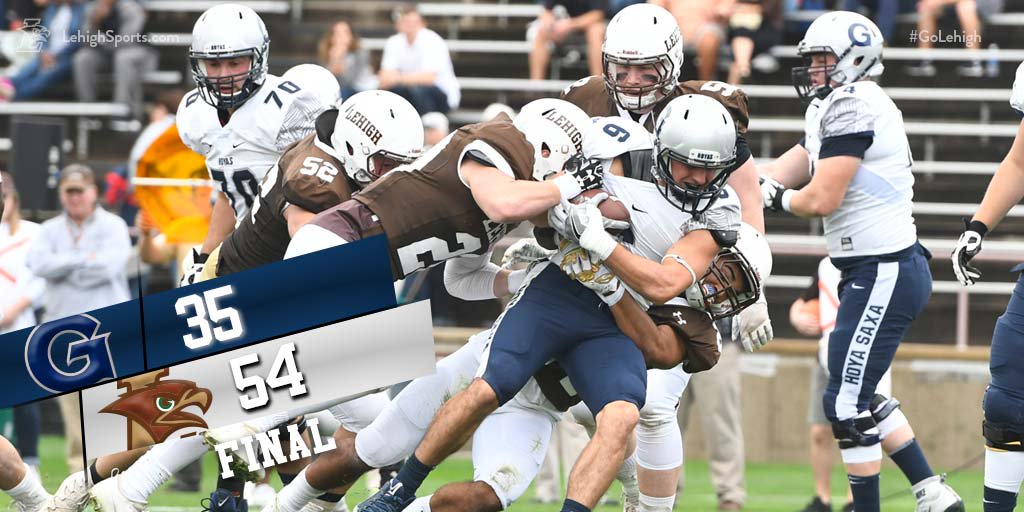 Before the game, the Lehigh sports social media team had some graphics ready for a record that senior WR Troy Pelletier had a high probability of breaking today.
Troy, or "The Doctor", as I call him, had to get 60 yards receiving to beat the Patriot League record for receiving yardage.
After he skied past that record, the social media folks had to keep assembling a lot more graphics.
By the end of the game, more records would be falling left and right. The career Patriot League touchdown record – the first time since 2001 since a Lehigh player nabbed 4 touchdown receptions in a game. Somewhere in the fourth quarter, he'd grab his 16th reception, breaking his own record for receptions in a game.
In the end, Lehigh cruised, never trailing in a 54-28 win over the Hoyas, but the story was Pelletier, whose amazing 16 catch, 197 yard, 4 TD game was the talk afterwards.
We've all been there, Lehigh fans. I know I was as an undergrad.
You enter the mid-term needing something big to save a bad grade, so you work furiously, trying to catch up on months of the readings you should have been doing, going over homework you skipped for some good reason – that good reason escapes you now, of course – to try to ace the midterm that can pull your grade back up from the dead.
With copious amounts of coffee, you go over the readings, taking the notes you should have been taking all along. You stay up all night to go over all the material, catching several catnaps during the morning. You finally enter the classroom of the test – and you deliver the grade you needed. You save your GPA, and you find yourself finally back on track – and then you collapse in a heap of bones on your bed.
OK, maybe the Colgate victory was not quite like that.
In a way, though, it feels like it – the win injects a huge measure of hope into a season that was pointed in the wrong direction, and allows Lehigh Nation to look at the midseason as a place to keep winning games and to possibly fight and claw their way to another Patriot League Championship.
LFN's midseason grades are below.
Read more »